The guy tending the kiosk recommended this flavor to me. He said that this is his favorite. He also said that it might not look thoroughly-coated with dark chocolate but like their White Chocolate Walnut, it is. With that comparison, I was sold.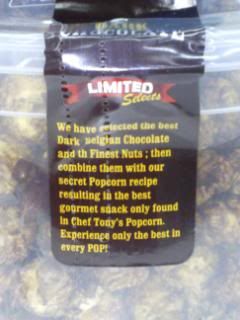 I bought a large container of their
Limited Edition Dark Chocolate with Almond for P210.00

When I ate it inside the cinema, I can't taste the Dark Chocolate nor any kind of chocolate for that matter. All I can taste was the bitterness, though not from the dark chocolate, but bitter, as in burnt sugar bitter. And even the almonds in it were over roasted.
I was so disappointed with its taste that I went out and bought a large White Chocolate and Walnut to console me.
Happy Eating!