Wednesday, July 21, 2010
Posted by

Sweet Dreams
at 10:43 AM
2 comments


Sunday, July 4, 2010
I passed by their standee of the Buy One Take One Pizza Promo outside their restaurant and told myself, what have I got to lose, might as well try it. And so I did.
Inside I can't decide whether to order one of each flavor or just 2 of the Messicana. My gut told me to go with the latter. But just to be sure I asked a fellow diner for his opinion. He told me to order their Messicana which also happens to be their best seller. So that's what I did. I ordered 2 of their 8-inch Messicana.
MESSICANA
- has beef toppings, bacon, cheddar cheese, mushroom and mexican seasonings
When it was served, the smell was intoxicating. It also has generous amount of toppings on a thin cracker-like crust. Cracker-like as in skyflakes cracker-like.
At one point I even thought I was eating skyflakes with beef toppings. The experience was similar, there's crunch on almost every bite. I suggest you eat it with your hands and not with fork and knife, it is easier that way.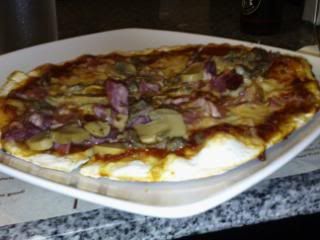 I like that the pizza has generous toppings, what I don't like was that the supposed to be mexican taste in it was not thoroughly-infused on the toppings but just sprinkled on the pizza.
The server told me that an order of 2 8-inch pizza was good for one ravenous person or two hungry people. But lo and behold I finished that 2 orders and I was not even hungry.
Happy Eating!
JOEY PEPPERONI
SM MANILA
Posted by

Sweet Dreams
at 8:54 AM
0 comments


The guy tending the kiosk recommended this flavor to me. He said that this is his favorite. He also said that it might not look thoroughly-coated with dark chocolate but like their White Chocolate Walnut, it is. With that comparison, I was sold.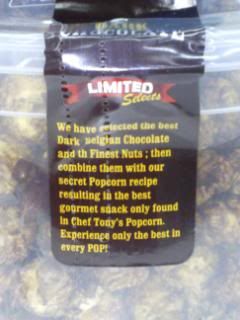 I bought a large container of their
Limited Edition Dark Chocolate with Almond for P210.00

When I ate it inside the cinema, I can't taste the Dark Chocolate nor any kind of chocolate for that matter. All I can taste was the bitterness, though not from the dark chocolate, but bitter, as in burnt sugar bitter. And even the almonds in it were over roasted.
I was so disappointed with its taste that I went out and bought a large White Chocolate and Walnut to console me.
Happy Eating!
Posted by

Sweet Dreams
at 8:39 AM
3 comments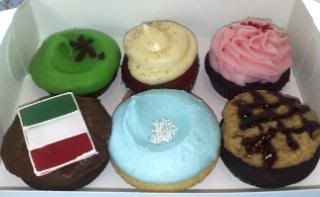 Last week at Sonja's I bought their Mint Condition, Red Velvet Vixen, Chocolate Surprise and Blondie Bar.
MINT CONDITION P68.00
- chocolate cupcake with frothy mint buttercream sprinkled with chocolate chips
The lady who took my orders told me that compared to their Peppermint Cupcake, their Mint Condition is mild in taste.
It really was mild, mild bordering blandness. It was so mild that it was hard to describe how it tasted. At some point though it reminded me of their Vanilla Sunshine but with a chocolate cake base.
RED VELVET VIXEN P70.00
- traditional southern cupcake made with belgian cocoa and cream cheese icing
I like the cream cheese icing and the belgian chocolate combination. It did worked for me. I just hope that they'll add more cream cheese icing because personally, it wasn't enough.
CHOCOLATE SURPRISE P68.00
- valrhona chocolate cupcake topped with either vanilla buttercream or creamy chocolate frosting
It was just an okay-tasting cupcake with a moist chocolate cake base.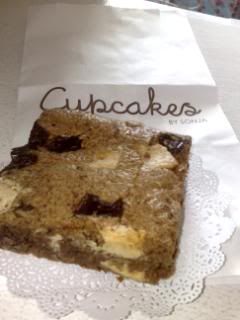 BLONDIE BAR P85.00
- with valrhona chocolate bits, coconut and pecans
At first bite I like it, with the dark and white chocolate chunks and the pecan nuts, but when all of that was gone and I was left with just the coconut base, I wasn't that fond of it.
Happy Eating!
Happy Eating!
Posted by

Sweet Dreams
at 8:11 AM
0 comments