It is an ongoing tradition with my husband to buy a whole cake 2-3 times a week. I told him that I wouldn't have dessert when we dine out if he'll buy me a whole cake twice a week. I reasoned-out that by doing so we'll (he'll) be saving more. A dessert in restos usually cost P150 up, that's just for a single person, unlike if we buy a whole cake that'll cost around P500 that'll last for 3-4 days (a day and a half in my case, and that is with a lot of control) and can be shared by us.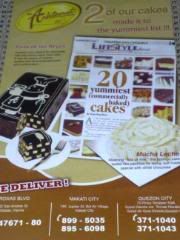 To digress, he was telling me to buy Polly's Chocolate Cake (he loves it now =) ) for our cake of the week, but since I recently came across the
Inquirer's 20 Yummiest Commercially-Baked Cakes
, I wanted to try them one at a time, so I started with
Aristocrat's Mucha Leche Cake P165 (mini).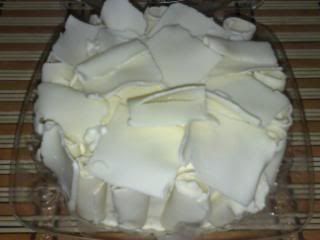 I have also heard about it last year from a certain blogger but never got to try it until now.
A staff in Aristocrat told me to keep it frozen.
Back at home I inspected the cake.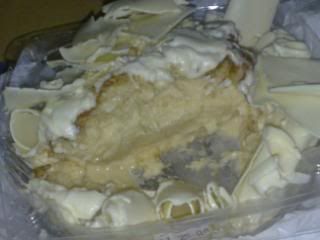 Under the white chocolate shavings and rolls was a milk-soaked pound cake (they said that it's a sponge cake but it doesn't freeze well, so maybe, just maybe, they're wrong) and buttercream.
Basically, the preparation of the cake was similar to that of a Tres Leches, but with only one kind of milk. The fact that it was frozen made it taste and looked like an ice cream cake.
I wasn't able to get the "pastillas taste" though that was written on the column, just that they taste of milk. And I dittoed, when my husband said that it also resembled a bread pudding, with its crunchy top and sides that cut the creaminess of the cake.
I didn't eat the cake with all its white chocolate (although they are my favourite), because doing so will make the cake cloying. At first I sampled the cake with all the works, then finished the entire milk-soaked pound cake with the almost melted cream. Left were a lot of white chocolate that I nibbled on later that day.
I like eating the cake a few minutes out of the freezer, by that time the cream's (which tasted like a mantecado ice cream) already melted and a perfect pair to the milk-soaked pound cake.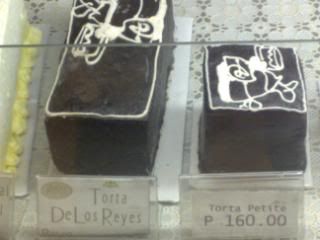 Another from the "Yummy List" and also from Aristocrat is the
Torta delos Reyes P85/slice
.
Six layers of wafers, buttercream and nuts, sealed with chocolate ganache.
This was also served frozen.
I don't like sansrival that much that I was hesitant on ordering it at first.
The wafers/meringue part of sansrival tend to deflate when bitten thru which I don't fancy, but since it's frozen it eliminated that fear.
It was also like an ice cream cake. The buttercream tasted like vanilla ice cream and the frozen chocolate ganache of chocolate ice cream. So together it was like eating a vanilla and chocolate ice cream. It also resembled/tasted like a frozen Kitkat bar, with the wafer, chocolate and all.
I enjoyed eating the cake but felt "bitin" with a slice, I want to have more.
Happy Eating!ARISTOCRAT
Roxas Boulevard, Manila