Out with a friend last weekend, we had our very late lunch /early dinner at Bubba Gump in Trinoma.
I wanted the I'm Stuffed Shrimp and she, the Grilled Dory Jambalaya.
I thought that the Stuffed Shrimp was big enough for us to share and the Jambalaya was just good for one. I based it on the pictures and menu descriptions.
In the end, we ordered both and the best part was ( may be out of exasperation, 'coz it took me a long time to decide), my friend footed the bill =)
It was a long wait for our orders to arrive and my friend was right in saying that they should serve something complimentary to take our minds and stomachs off our orders.
After 20 minutes or so, the
I'm Stuffed Shrimp P585
arrived.
8 pieces of shrimps stuffed with crab meat, baked in garlic butter and topped with Monterey jack cheese, served with jasmine rice and sides of coleslaw and mama's best garlic bread.
It wasn't as big as it looked on the menu. It was stuffed but not big. And even with the garlic butter and the Monterey jack cheese, it was still a little dry.
I like the crunchy, not too-saucy/creamy coleslaw that breaks the familiarity of the dishes combined. The garlic bread was buttery but not garlicky.
The
Grilled Dory Jambalaya P430
is from their new menu offering.
Grilled cream dory over a spicy New Orleans' style jambalaya with tender shrimp and andouille sausage.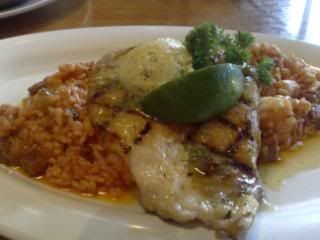 This was soooo GOOD. What I thought to be a bland dish was indeed a kaleidoscope of taste.
The scoop of parsley butter on top of the grilled dory, melts on your every move and bite.
The jambalaya as a whole, was saucy, light in taste but rich in flavour.
I thank my friend for ordering this 'coz I got to try something new and good.
Happy Eating!