Is it really better than sex? I don't think so. Orgasmic? I still don't think so.
Another week (make that 2 days after), another cake from Karen's Kitchen.
BTS (Better Than Sex)
has alternating layers of chocolate cake, cream and dulce de leche caramel.
It's best eaten chilled for the cream to set.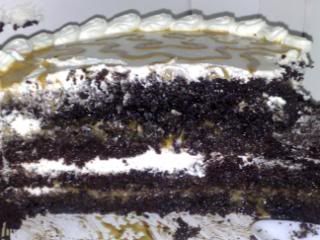 How do I find the cake? It's not too sweet even with the dulce de leche. The cake was moist, the cream not too rich and the dulce de leche not too sweet. I found it too plain-tasting, just your average chocolate cake with caramel sauce.
The BTS has a crumbly exterior which I also didn't like in this case (cake).
I still favoured Polly's Chocolate Cake and their Xanadu over this.
But wait, there's a surprise inside the cake that made me smile but still didn't change my impression of the cake. What is it? Well, it's for you to find out =)
Happy Eating!