Back at Baker's Passion for the nth time, I was ready to try another of their paninis.
The server kept on insisting that I order the Grilled Chicken and not the Italian Adobo, when I asked why, he answered just because he doesn't eat pork (wrong answer, he should have answered, because it's better). It was one of the reasons that I went in to dine in the first place. I read its description on the menu outside.
I like the white cheese from the 5-cheese Panini (also from them) that I ate a couple of weeks back, that I envisioned it with the adobo to be a much better pair, to be yummier than it sounded, I was wrong.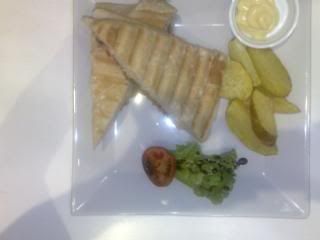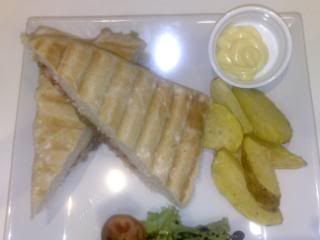 The Italian Adobo Panini P118, adobo cooked in Italian herbs served with mixed greens and white cheese with balsamic reduction. An order of the Panini comes with fries, tomatoes and salad greens.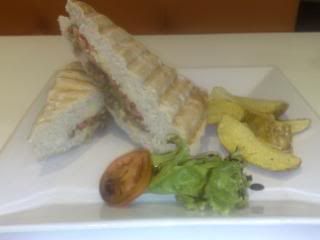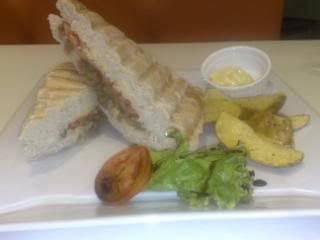 The bread was dry so as the filling. The entire set was very bland, from the bread down to the fries. The only saving grace of the dish was the salad greens (actually, just a leaf) and the balsamic vinaigrette that dresses it.
I didn't enjoy eating it, it actually worsen my toothache. It was dry, hard and rubbery (makunat) that I lost a tooth filling eating it.
Good thing that they have free wi-fi (very fast connection), bad thing was you need to pay P25/hour of electricity use (if you charge your laptop).
On my way out of the bakeshop, I was told by the manager that all breads, cakes and pastries were at 20% discount. Since, I was in the mood for something chocolatey, I asked the manager to recommend the best chocolate anything that they have. She said that for chocoholics, their
Supermoist Jr. P49
will never disappoint. So, with that said, I bought a piece.
Moist chocolate cake covered in chocolate ganache.
It really was moist, but not fudgy. You can also tell that they used low-quality chocolates/cocoa, thru its taste.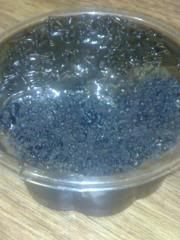 You won't enjoy eating the cake without the ganache, it'll taste ordinary. The ganache made eating the supermoist a lot better.
Happy Eating!BAKER'S PASSION
L2 Tastebuds,
Robinsons Place Ermita