I have eaten here countless of times already. From Party Buffet, Breakfast Buffet to Lunch Set.
I like their breakfast buffet and lunch set, but not their party buffet. Why? Because during the tasting part (of what to include on the party buffet), the food tasted delicious. But on the actual party itself, they were bland. This happened twice already. I guessed they haven't mastered catering for a large number of people yet.
For the breakfast buffet that day, the choices were, Beef Embutido, Longganisa, Yasai Itame (chopsuey with shiitake mushrooms), Fried Fish, Salted Egg and Tomatoes, Omelette (cook your way), Arroz Caldo, Steamed Rice, Breads with Butter and Jams (Orange Marmalade and Strawberry Jam), Salads, Assortment of Cheeses and Cold Cuts, Fresh Fruit Slices, Coco Crunch, Corn Flakes and Finesse Corn Flakes, Coffee, Tea and Juices (Pineapple and Grapefruit).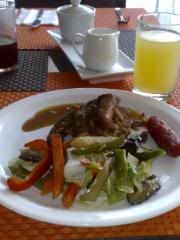 From the spread, I liked the Beef Embutido (which I thought to be Fish Relleno at first) and the Yasai Itame (I took extra servings of the mushrooms). The omelette that day was a little bland for me (may be because the omelette station was jampacked with waiting orders).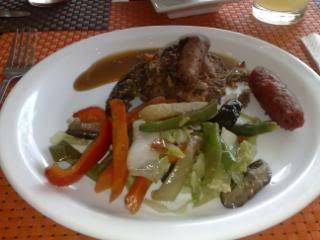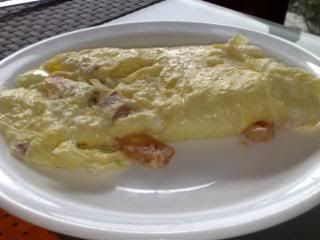 Since I still want to have dessert even for breakfast, I had Coco Crunch.
Happy Eating!CAFÉ MIRANDA
CITY GARDEN SUITES
1151 A. Mabini St. Ermita Manila