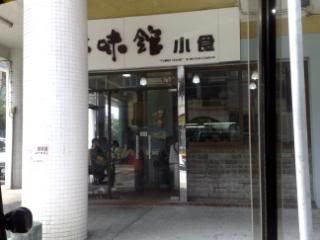 Before starting our Macau Tour, we asked our tour guide Aou on where to eat delicious but affordable food for lunch. He brought us to the
Yummy House
.
Since I have a toothache that whole trip (until now), I wanted something soft. I was set on the Regular French Toast when I saw something more appealing being served on another customer. I asked our tour guide to get me the exact same thing. That French Toast was not on the menu by the way.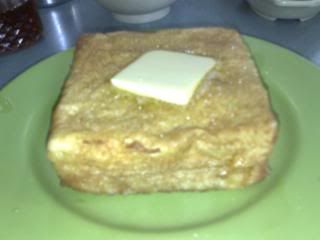 French toast with peanut butter filling, topped with a slab of butter that melts easily when you spread it, and drowned with maple syrup.
I like every bits of it. From the bread used, which tasted like a japanese bread, up to the maple syrup. My reaction to the french toast enticed my mother and sister to order one even after their full meal of soup, chicken and rice.
A few days after my HK/Macau trip, I have learned that the French Toast I had at Yummy House is the
French Toast – HK Style HK$16
. Allegedly it's how they like their french toast, with peanut butter and lots and lots of maple syrup, double YUM!
Happy Eating!YUMMY HOUSE
Fong Son San Chun bl5, Macau (Landmark: near A-Ma Temple)
Tel No: 28966313