Garlic and cheddar cheese on a thin-crust.
Better than Pizza Hut's Sausage and Cheese. Taste good, salty but not garlicky, which could have been better. Also, the crust was not as thin and crispy as I remembered it to be.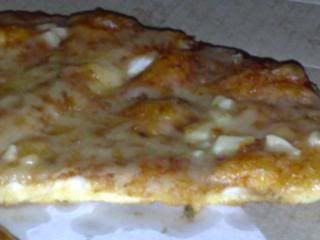 It didn't pass the test of a good pizza, which is, still good for breakfast the next day or even when eaten cold. It's just good when eaten right away.
I had mine to go and when it's time for me to eat it, it wasn't good anymore. It was like eating a fake garlic bread. Bigoli's breadsticks are way better.
I was disappointed since I was craving for this for such a long time.
Happy Eating!