Last week as I was scouring the Midtown Wing of Robinsons Place Ermita of a good resto to eat, I came across Holy Cow.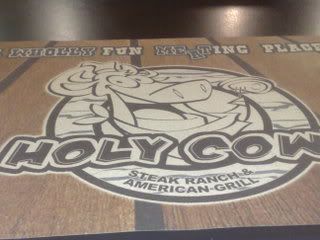 Looking at their menu, there's quite a lot to choose from. Since I'm not up for their steaks that night, but still want some meat, I ordered the Biggie Kiddie Cheesy Burger P180 from their Kiddie Meal. Allegedly, it was also their best seller, ordered by mostly adults.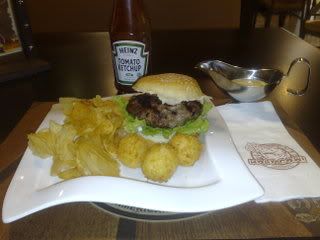 Quarter pound of juicy beef patty, with chunks of cheddar cheese inside, dressed with lettuce, tomatoes and honey-mustard dressing. It is served with potato ribbons and mozzarella-stuffed croquettes. It also comes with choices of 12oz White Grape Tea, Citrus Black Tea or soft drinks for beverage.
The patty has this strong grilled taste and aroma. It was succulent and juicy with melted cheese oozing from within. It was also a little bit bland, but with all the works (honey-mustard dressing, the veggies and the buttered bun), it was delicious and light (on the tummy). Even the bun has grill marks and has this intense smoky aroma.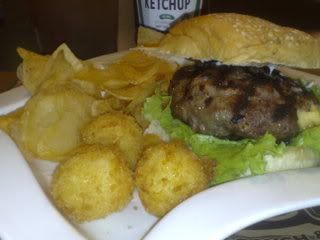 The potato ribbons is their version of potato chips. It was just okay. What I like more is their mozzarella-stuffed croquettes. It was soft and creamy, with a little tartness from the cheese.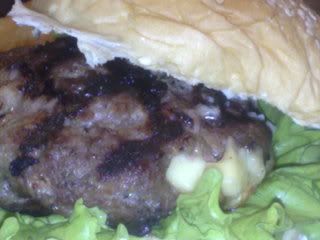 The White Grape Tea is made of white tea with grape juice and fresh grapes. It was a cross between a champagne and red wine in taste.
Since I always have room for desserts, I had the Caramel Boston Pudding P95, also their best seller dessert.
Layers of sponge-like pudding cake filled with vanilla custard and topped with caramel glaze.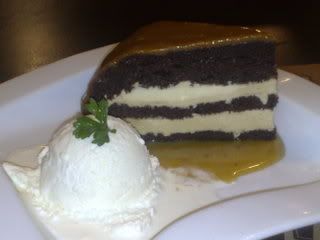 It is served with a scoop of vanilla ice cream and caramel sauce.
On its own the pudding was light, with the caramel sauce it was delicious, and with the vanilla ice cream and caramel sauce, it was very sweet, rich and creamy. What a perfect way to end a cheesy burger meal.
Overall, I was satisfied with the food, the ambiance and the service. I can't wait to try their other dishes soon, may be steaks this time.
Happy Eating!
HOLY COW
Level 1 Midtown Wing,
Robinsons Place Manila