This is the Mc daddy of cream puffs.
Everyone I introduce this to loved it even more than I do. Even those that don't like sweets and grown men loved it.
I introduced this to colleagues (men who don't like sweets) from work when I was made in-charge of the food for our general meeting. Ever since then they purchase this on their own. Even asking our delivery riders to buy it for them a couple of times a week.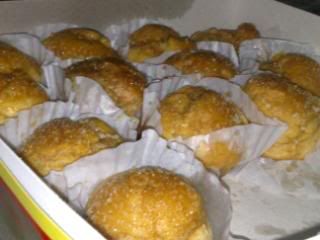 ***the caramel glaze melted because I exposed these to heat for 10 hours, when I went to a spa party with these puffs with me***
Another instance was when I rode a cab going to and from Tinapayan to buy cream puffs. On the way home, he (the driver)asked me, if it was worth the time and money. I answered by giving him a piece to try. He ate it right away and even licked the bottom liner. He then said that now he understood and would even come back to buy some for himself and his family.
Choux pastry filled with custard and topped with crisp caramel glaze.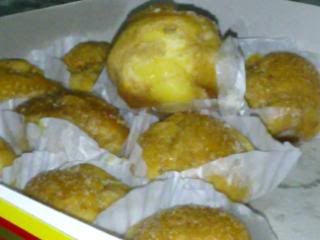 Crunchy and sweet caramel glaze, soft choux pastry and creamy custard.
I can eat it every hour of the day and will never tire.
It felt like eating a slice of heaven. No words can describe how good it is.
Even my husband and brother-in-law fought for a piece of this with me.
Surely anyone eating it will definitely lose their sense of self and reasoning and would just want to have more of it.
Happy Eating!
TINAPAYAN
1650 Dapitan St. corner Don Quijote
sampaloc Manila