They said that
Kinder
is the German word for children and
Bueno
is the Spanish word for good. Does that mean that
Kinder Bueno
is good for children? :-)
Kinder Bueno
is a chocolate from Ferrero that originally came from Italy.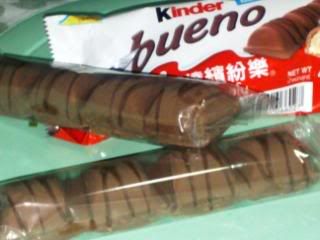 It is a chocolate coated wafer with milk chocolate and hazelnut filling.
It was like a ferrero chocolate mixed with nutella spread, which are both, by the way from Ferrero.
I like the chocolate coating but love, love, love the chocolate hazelnut filling. I can eat just that every day.
Happy Eating!