Each day of the week features a different set meal, starting from P149.50 to as high as P249.50 and is available throughout the day.
Since I came in on a Thursday, I was served
Mushroom Soup, Garden Salad, Beef Lasagna, Chocolate Mud Cake and Iced Lemon Tea for P199.50
. I saved more than P300. They served the following items the same size as their regular menu.
The
Mushroom Soup P90
, a best seller, was just okay. Like what Campbell's Mushroom Soup should taste. I still like Pizza Hut's Cream of Mushroom Soup more.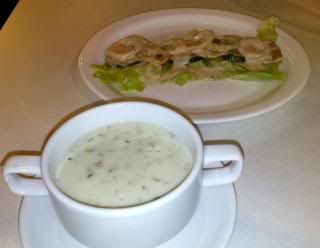 Their
Garden Salad P100
, comprises of onions, cucumber and tomatoes on top of lettuce leaves on a pool of thousand island dressing.
A serving is minute, with just 3 thin slices of tomatoes and cucumber and 5 onion rings, added the fact that it was swimming in dressing, that's too nauseating for me.
The
Beef Lasagna P150
was good, cheesy and beefy. It has a lot of finely ground/minced beef and just a thin layer of lasagna noodles. Those on South Beach Diet would love it, mostly protein and less carbs. The
Bun
it was served with was big and buttery-soft.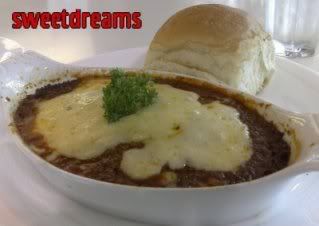 The
Iced Lemon Tea P50
was also good and not too sweet.
The
Choc Mud Cake P120
has layers of chocolate cake and chocolate mousse enrobed in a thick chocolate ganache.
The chocolate cake was spongy and dry but the chocolate mousse and ganache were chocolatey and thick which I totally love.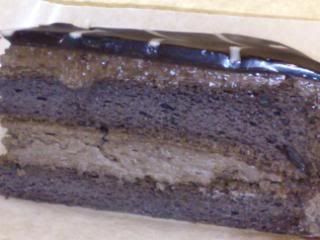 Happy Eating!SECRET RECIPE
Robinsons Place Ermita