Beef with onions, tomatoes, lettuce and grated cheese wrapped in warm tortilla bread, topped with yogurt, cheese and chili sauces.
If I didn't know it, I would have guessed that the filling was pork longganisa instead of beef. The color, texture and taste were all similar to a longganisa. It was sweet with lots of fatty bits and pieces.
If you like longganisa you'll surely like the shawarma. But since I am not that fond of fatty longganisa, I like everything in the shawarma except it. The tortilla bread was so soft, even after a day in the chiller.
At some point though I experience a spine-chilling effect from the oily and fatty filling. Good thing though that I bought just the small and not the regular shawarma.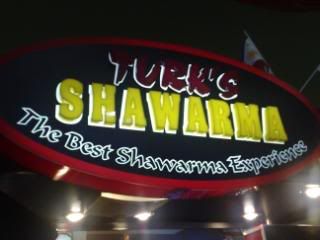 Happy Eating!