The location of the cafe was so relaxing, especially at night when there's piano music playing on the background. So relaxing that I was close to falling asleep that night :-)
Choco and Cheese Trickles are just some of the item they offer in their cafe with Choco Wacko being their best seller.
Since I wanted to try it first before I commit to a regular size for P28, I bought a piece each of their
Choco and Cheese Trickles Munchkins for P7.50
.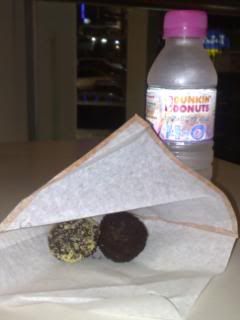 Compared to their regular munchkins and donuts, the Trickles were compact and denser, the flavors too were more intense, with the cheese being tart and the chocolate slightly dark.
Happy Eating!DUNKIN CAFE
IL TERRAZZO
Tomas Morato, Quezon City