Cookies and cream filling with real chocolate cookie chunks between layers of vanilla and chiffon cakes, topped with whole Oreo cookies.
You would think that this cake was the richer and sweeter cake between the two (NSA Belgian Bliss and Cookies and Cream), but it was the complete opposite, it was light.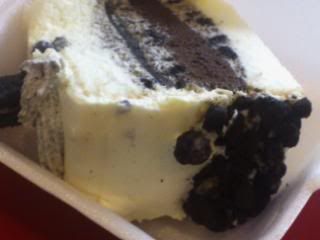 It was similar to Goldilocks Double Dutch Slice in taste and appearance (sort of), with the chiffon cake layer and the chocolate cream filling.
It was good, though I like more their Chocolate Mallows which have the same cookies and cream filling but with more flavor and texture to offer, that sadly they discontinued.
Happy Eating!