Out for dinner with a friend at Racks Mall of Asia, we both ordered the
Baby Back Ribs (Half Slab) P300
, hers with Corn Bread, Potato Salad and Gravy Fries and mine with Corn Bread, Gravy Fries and Macaroni and Cheese.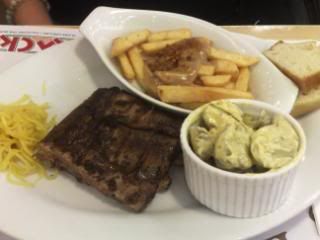 The ribs were the complete opposite of the one I had in their Magallanes Branch, that's dry. That night, it was moist and fall-off-the-bone tender. We didn't even use the knife. I realized in the middle of dinner, with the help of my friend that what I ordered in magallanes was the Beef Ribs and not the Baby Back.
As usual the corn bread and gravy fries were delicious. The corn bread was buttery-soft and moist, while the gravy fires were crisp and garlicky.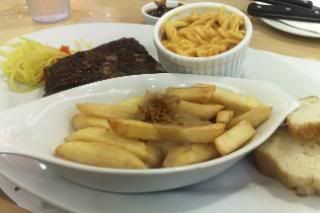 The Mac and Cheese was just okay, similar in taste to that of Kenny Rogers. The Potato Salad was good. Tangy and creamy, with just the right firmness from the potatoes.
Happy Eating!