Aside from the Mango Walnut Torte, I also bought a box of 8 of their assorted brownies.
I chose their Classic, Fudgy Swirl and Butterscotch to try at home.
- classic
- fudgy swirl
- butterscotch
Their
Fudgy Swirl
was a note lower than the Walnut Swirl of Brownies Unlimited in taste, the same goes with their
Butterscotch
. And even if I like chocolate and nuts together, I still prefer their Classic over their other brownie flavors.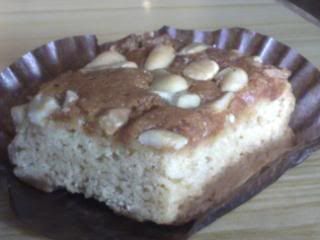 The
Classic
is a fudgy brownie with chocolate ganache icing. This was fudgy, moist and dark, just the way I like my brownies.
I also followed what a staff of Kocco told me, that their classic brownie is best served warm, when the ganache's slightly melted, so I warmed it up before eating. And she's right, it was decadently-good. But, I still prefer it chilled 'coz I like my brownies fudgy and not cake-like.
Happy Eating!