It took me a while to decide what to order since there were an awful lot to choose from, as in 29 combinations.
My first choice was the
Pirates of the Cadbury-ean
but it wasn't available that time.
I was then torn between
Lemony Snickers
and
About A-Hoy
, both their best sellers.
Fortunately, a staff helped me decide. He told me that if I wanted something sweet, I should have the About A-Hoy. So that's what I ordered in
Trailer Bowl (small bowl) for P50
.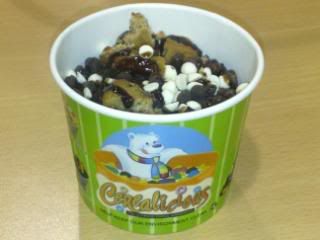 Coco pops + vanilla milkshake + toppings of chips ahoy, choco kisses (more like mini choco chips in white and milk chocolate) and choco syrup.
Their vanilla milkshake was more like a dairy slush than a milkshake. It was also quite similar to
Ice Monster's Brownie Fudge
, with their (cerealicious) milkshake resembling Ice Monster's finely-crushed ice + milk.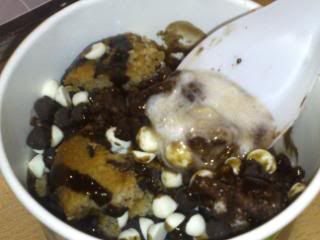 An okay snack for all seasons.
Next to try on my list, the Pirates of the Cadbury-ean and Lemony Snickers.
Happy Eating!