They are famous in Davao. I had also watched several shows featuring their durian roll. One was in Drew Arellano's Balikbayan, the other one was in Net25. Maybe even Tonipet's Taralets featured them already. They were in unison in saying that Cecil's Durian Roll was worth flying to Davao for. It is also included in the must-try food in Davao's list. All of these piqued my interest and even made me want to go to Davao asap.
So I was relieved and at the same time excited when I read in the Inquirer that they were one of the 24 Best Desserts that will be holding a booth in Mall of Asia. It was held last December 4-5.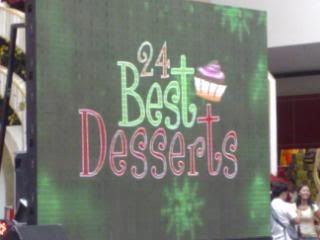 Since they only offer the Durian Pie for free taste and not the Durian Roll, I bought a half roll for P250.00 to try and eat by myself.
Chiffon roll with durian jam and nuts.
Durian is really an acquired taste. This was my second time to eat it and I still don't like it. The chiffon cake was moist and good though.
Happy Eating!