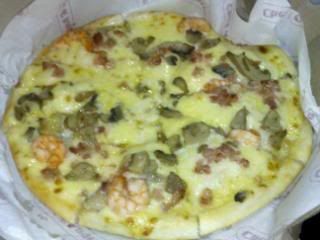 Freshly made pizza crust topped with bacon, shrimps and mushrooms with garlic over Alfredo sauce.
GREAT WHITE PIZZA (9-IN) P230.00
This was my favorite back in the days (2002 or 03). I thought this was so good and delicious. I don't know if I was the one who upped my standards or Chef lowered theirs.
The pizza wasn't as delicious as before. The crust was still soft and chewy but the toppings on it were bland. I remembered how good the merger of the white sauce and mozzarella cheese was back then, I don't seem to get it now.
Happy Eating!
CHEF d'ANGELO
Robinsons Place Ermita