Press Cafe's version of Nigella's Grilled Cheese Sandwich on either whole wheat, ciabatta, foccacia or white bread.
They also have Barefoot Contessa's Panini of grilled white bread with pesto, mozzarella and tomatoes, Jamie Oliver's Ultimate Burger and Count of Monte Cristo just to name a few.
Nigella is one of my favorite chefs/cooks, next to Ina and Giada, that when I was made to choose from Press Cafe's assortment of sandwiches I picked
Nigella's Mozza in Carozza (P160.00)
, and also its description was very appealing.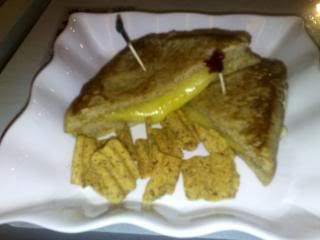 Their version was like a french toast grilled cheese sandwich served with chips that tasted like Nova Chips. It was just an okay sandwich for me though, or maybe its my choice of whole wheat bread that made this sandwich just okay.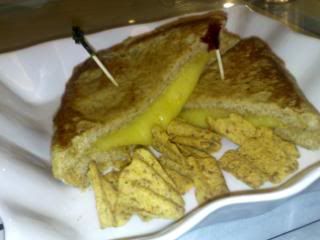 Happy Eating!
PRESS CAFE
Powerplant Mall, Makati City