Layers of chiffon cake, chocolate hazelnut mousse and vanilla mousse enrobed in chocolate ganache topped with macadamia nuts and with pralines running around the bottom.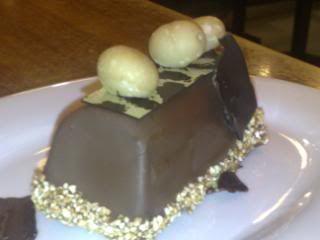 BURRE RUSTIC P100.00
The chocolate/hazelnut cream was very rich downplayed by the lightness of the vanilla cream.
I love everything in this cake except the chiffon which was dry. A butter cake is a more suitable replacement.
Also, I love how at some point the cake gave this choco-hazelnut/nutella vibe.
Happy Eating!
DUSIT THANI
Makati City