I regularly watch
The Sweet Life
and read
Lucy Torres
' column in the Philippine Star. I also always try her recommendations and most of the time I like it.
A couple of weeks back (September 06, 2009), while watching The Sweet Life, Lucy showed her weirdest food craving/favorite. She said that she loves tomatoes on bread, that she can eat it just that, bread with tomatoes. But the weird part was that she also loves putting Chippy on top of that. She said that it is sooo good.
I texted my sister about it immediately after and she replied that she also loves it, and even my niece. Intrigued, I made one that same night.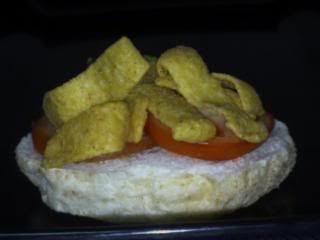 It was just okay for me, maybe because I am more of a meat person. I needed something else aside from the bread, tomatoes and chippy, maybe ham or any meat.
I am willing to give this concoction another chance but this time with meat.
Happy Eating!