Cookies with Cadbury chocolate and hazelnut cream filled center.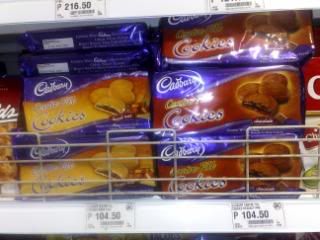 It wasn't as aromatic as I hoped it would be, the cookies were also dry and somewhat stale, contradicting its expiry date.
What I only like in the cookies was the filling. It was like crushed Ferrero chocolates. When I said crushed it's because the cream filling was not all cream, there's crunch in it, like the crunch you feel in a ferrero chocolate. I liked it a lot that I only ate the fillings of all the cookies and disposed the rest.

Happy Eating!