UBER TORTEN P950.00 (WHOLE)/ P125.00 (SLICE)
Layers of japonaise (almond meringue), ube halaya and cream filling topped with ube mousse with dulce de leche and finished with ube bits, cream rosette and candy sprinkles.
When the server told me that it was a light cake I didn't believe her. Why should I? Ube Halaya by itself is already heavy, add the cream and the japonaise, then you have one heavy on the tummy and very rich cake.
But it's not. It was not too sweet, light on the tummy and also light in taste.
The dulce de leche in the mousse didn't do anything except add sourness to the cake. It is better without it. The japonaise was crunchy and chewy while the ube mousse was like ube ice cream, smooth and rich.
Overall it was a good cake but not my type of cake.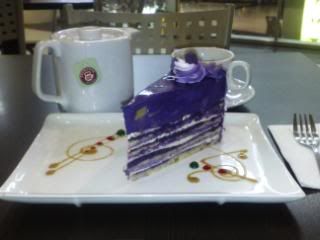 I always order their cakes with their strawberry and lemon grass green tea infusion. It was so good that even non-tea drinkers will like it.
Happy Eating!