I like revel bars more than I do brownies, so I am always on the look out for the best revel bar there is.
I thought I already found one in San Lo's Famous Revel Bars. They were tasteful with a very thick chocolate layer. They were number 1 on my list for close to 3 months now. I bought 2 to 3 boxes of them every week. Then just 3 weeks ago I can't buy them anymore at their Petron Dasmarinas branch and neither at their booth in Baker's Dozen Powerplant Mall. I were told that they can only accommodate pre-orders of revel bars. So with that told, I immediately placed my order of 2 boxes for pick-up the next week.
-- THESE BARS WERE THE OLD VERSION
When I picked them up the next week I was surprised at their appearance. They were no longer rectangular in shape they are now square-shaped. Even the price was different, from P220/8pcs to P250/8pcs. But I can tolerate that, but not the change in taste. They weren't the creamy, sweet and chocolatey revel bars that I knew, now they are bland and moist (in an icky kind of way).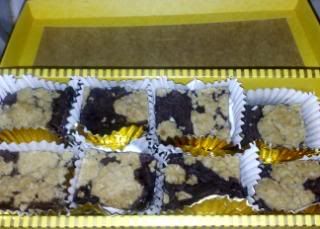 -- THESE BARS ARE THE NEW VERSION
I just hope that the 2 boxes I bought were just an isolated case and that my succeeding orders will taste as good as before. Hopefully 'cos I am planning to give them as gifts for christmas.
Happy Eating!

SAN LO'S FAMOUS
-Petron Dasmarinas, Makati City
-Baker's Dozen, Powerplant Mall Makati