Chocolate brownie with walnuts topped with white chocolate, dusted with cocoa and decorated with chocolate cream rosette and white chocolate swirl.
I love the white chocolate layer in the brownie, but the brownie itself was too dry and crumbly. Good thing though that there were tremendous amounts of walnuts in it. It entertained me and took my mind away from the dry brownie.
Inspite of being dry, I would love to buy one again, just for the creamy white chocolate and the crunchy walnuts.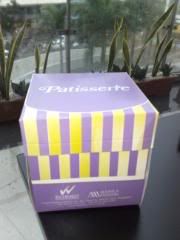 Happy Eating!MANILA PAVILION HOTEL
PATISSERIE
Manila