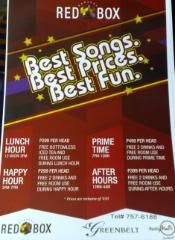 Buffet + Bottomless Iced Tea + Free Room Use From 12noon to 3PM for P299 or P328 (net).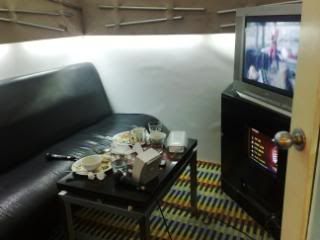 Reservation is recommended but not required. If you want a cheaper promotion though, go to their Trinoma branch instead. Where the Lunch Buffet goes for P199 only, a hundred pesos cheaper.
A reservation of a week in advance is recommended in their Trinoma branch, since it fills up easily especially during weekends.
The buffet starts at exactly 12noon and ends at 2PM.
The spread that day (Sunday) includes Salad Greens with different dressings, Asparagus with Tuna, Green Mango with Bagoong, Potato Salad and Corn Soup for Starters. Steamed White Rice, Spag Alfredo (Fettuccine with Olives), Dory Fish with Oyster Sauce, Spanish Chicken and Roast Pork with Creamy Cajun Sauce for Entrees/Main Dish and Fruit Salad with Buko, Pineapple and Apple for Dessert.
From the spreads my favorites were the Potato Salad, Fruit Salad, Dory Fish and Spanish Chicken that were all so good that I went back countless of times for refills.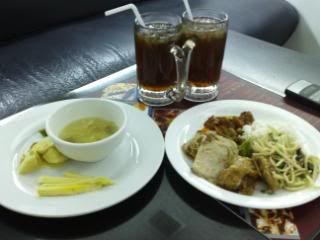 The Spanish Chicken's sauce was very tasty. Sweet, spicy, creamy and rich but also thin. While the chicken was flaky and very tender.
The Dory Fish was similar to the Dynamite Chicken of Bubba Gump that crackles in your every bite.
The creamy cajun sauce of the roast pork was also good but not the roast pork itself, that though cut thinly was dry and hard.
The Fruit Salad only has buko, pineapple and apple but was still very refreshing and a very good way to end my buffet meal.
I wasn't able to get a decent photo of the buffet spread because it was either crowded with hungry people or empty. As soon as it was replenished it was gone in 60 seconds. Seemed like there were lots of hungry people that afternoon.
I recommend that they extend their promotion from 12noon to 3 PM to 12noon to 4 PM.
It was hard to sing while eating. This was not your pica-pica with drinks type of eating but the heavy kind. It was hard to take a bite then sing.
We only concentrated on singing after our meal, around 2PM. So we were only left with an hour of singing. But still found it hard to sing on full stomach.
I also recommend that they add more to their dessert choices like mini cakes and kakanins and offer other drinks aside from iced tea.
Happy Eating!RED BOX
Greenbelt Makati