They said that their bestsellers are their cheesecakes (with mango or blueberry toppings). Since, I'm more of a chocolate person, I asked for their other bestsellers.
They said that the French Chocolate Cake was next in line, followed by the Ube Cheesecake Brulee, Pistachio Meringue Gateau and the Warm Apple Bread Pudding ala Mode.
I was set on the Bread Pudding but his description of the French Chocolate Cake got me curious.
French Chocolate Cake P150
, half chocolate decadence cake (chocolate cake), half chocolate ganache, topped with whipped cream and chocolate swirls. It is served with strawberry and ripe mango syrup.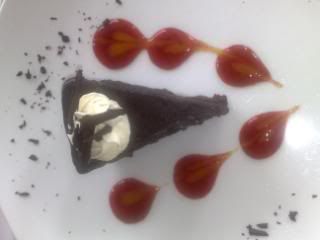 The chocolate decadence was wet and not moist, it was also granular (I don't know how else to describe its texture). Alone, it doesn't taste much that I needed some help from the syrup.
The chocolate ganache was like a chocolate bar in taste and texture. It was served frozen thus it's rock-hard. It's very tricky to use utensils in eating it and biting thru it can be a predicament. Overall, that was also the best part of the cake.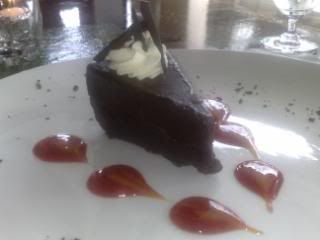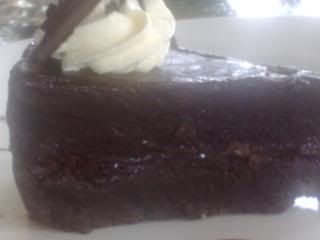 Did I regret ordering the cake? No, it's worth a try but not a repeat order, well, not that soon I mean. May be after a couple of weeks, just to refresh my taste buds.
Nevertheless, I would definitely come back for a meal ( I saw their head chef won something in an episode of Katoque, that must mean something right?) and their other desserts (bread pudding and ube cheesecake brulee).
Happy Eating!CHEF'S QUARTER
L1 One Adriatico Place Manila
Tel No: 381-3449