A few minutes off my last bite of Polly's Chocolate Cake and I'm dying to buy another. But sad to say, it's the middle of the week and the Baker's Dozen won't start until Friday.
I was set on buying from Shell Pasong Tamo or Magallanes (although more expensive), when I read Karen's Kitchen feature on Manila Standard.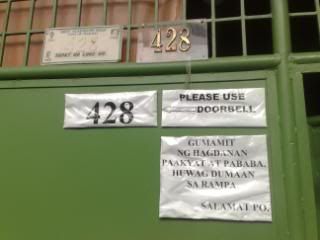 I have tried their Chocolate Ganache (I still like Polly's Chocolate Cake over this) and Xanadu ( I love this cake, just expensive). Since it was written there that
Red Velvet P550
is their second best seller, that was what I ordered (although I was a little apprehensive based on a review of a certain blogger during the "start-up" (I can't think of the exact term)process of the cake. I picked-it up later in the afternoon (I was told that for most of their cakes, an advance order is needed but since it was one of their best sellers they make extras).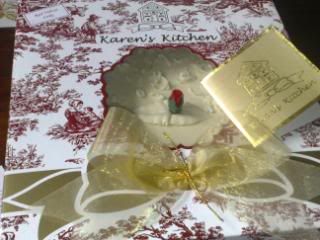 Red-hued chocolate cake with raspberry-colored cream in between, coated with cream cheese icing and topped with white chocolate curls and a single rose.
It is one of the Inquirer's Top 20 Cakes of the City.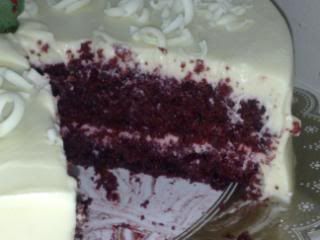 What can I say about the cake? Well, there were the good parts and then the bad parts. Let's start with the bad parts first: I can't taste the chocolate, the layering of the cake was not prominent, the white chocolate used lacked creaminess and sweetness. And now with the good: It was moist, its texture resembled that of dessicated coconut (almost crumbly but firm), not too sweet nor rich, a light cake (surprised?), it was in between dense and airy.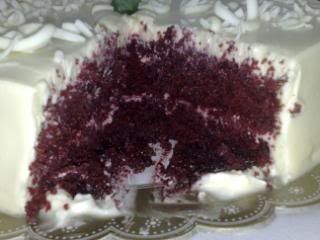 You'll never stop eating just to know what the cake is all about. Up to my last bite, its taste still puzzles me.
Although I have grown to like it, I still like dolcepastries take on this popular cake. Dense, with a prominent chocolate flavour and just the right sweetness. Bad thing is, her online bakeshop's closed down for almost a year now.
Happy Eating!KAREN'S KITCHEN
428 Adalla Street, Palm Village
Makati City
Tel No: 898-2280