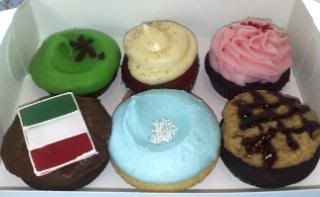 Last week at Sonja's I bought their Mint Condition, Red Velvet Vixen, Chocolate Surprise and Blondie Bar.
MINT CONDITION P68.00
- chocolate cupcake with frothy mint buttercream sprinkled with chocolate chips
The lady who took my orders told me that compared to their Peppermint Cupcake, their Mint Condition is mild in taste.
It really was mild, mild bordering blandness. It was so mild that it was hard to describe how it tasted. At some point though it reminded me of their Vanilla Sunshine but with a chocolate cake base.
RED VELVET VIXEN P70.00
- traditional southern cupcake made with belgian cocoa and cream cheese icing
I like the cream cheese icing and the belgian chocolate combination. It did worked for me. I just hope that they'll add more cream cheese icing because personally, it wasn't enough.
CHOCOLATE SURPRISE P68.00
- valrhona chocolate cupcake topped with either vanilla buttercream or creamy chocolate frosting
It was just an okay-tasting cupcake with a moist chocolate cake base.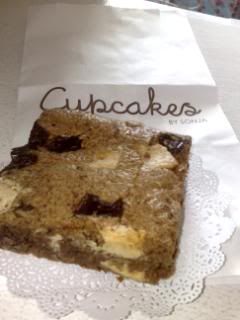 BLONDIE BAR P85.00
- with valrhona chocolate bits, coconut and pecans
At first bite I like it, with the dark and white chocolate chunks and the pecan nuts, but when all of that was gone and I was left with just the coconut base, I wasn't that fond of it.
Happy Eating!
Happy Eating!