I'm still in my diner phase, I think I'll be forever in it.
I really love dining at Mr. Jones, I'm there almost twice a week. My usual orders are their Superman Burger and the Two Dogs in Bed. This time I had the
Miss Frenchie's French Dip (P395.00)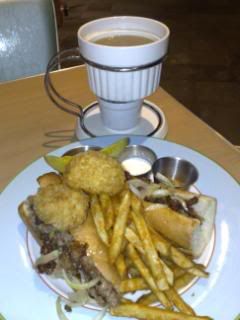 U.S. Beef with onion "Au Jus" served on a baguette with beer battered onion rings, french fries and horseradish-chive cream.
The accompanying onion broth is placed on a ramekin with a diffuser, sort of fondue-style.
An order was indeed overwhelming, I don't even know where to start. LIAR! I know where to start, with the fries of course! I asked again for an extra tartar sauce 'coz I don't like dipping it on ketchup. But after the fries and the onion rings came the hard part, how to eat the sandwich.
With Delifrance Roast Beef, I dunked the sandwich on the gravy. It was easy with delifrance since their baguette was soft and their sandwich small. When I tried doing the same with Mr Jones Frenchie, most of the filling went in the broth. Then I tried slicing the sandwich, but the baguette was extremely hard. Tearing the baguette with my hands was the easiest way to eat it but dunking it on the broth made it soggy. So I just stopped dunking and just made bite-size pieces of the sandwich with none of the mustard and took the broth as a soup instead.
The sandwich was just okay but I don't think I'll be ordering it again.
Happy Eating!