It was my second time at the resto and I ordered Fish and Chips and Superman Burger.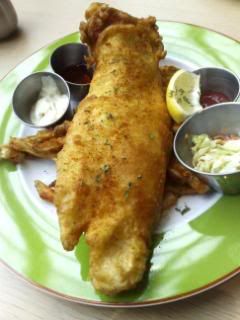 The
Fish and Chips (P320.00)
comes with french fries, old bay tartar sauce, spicy cocktail sauce , malt vinegar and homemade coleslaw.
Sadly though the fish was not good. It was tender but bland. The vinegar nor the cocktail sauce and even the tartar sauce, can't help it. The only saving grace of the dish was the fries. They were good, as good if not better than KFC's Crispy Fries and Chelsea's Kilfer Potatoes. Even the smell was delicious and is perfect with their tartar sauce.
I also had the
Superman Burger (P420.00)
.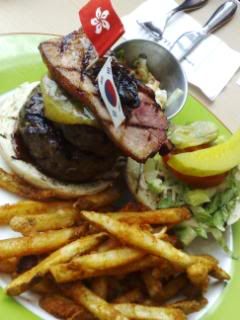 It has 2 thick US beef patties, American and cheddar cheese, balsamic sweet onions, hickory BBQ sauce, double smoked bacon, lettuce and tomatoes on a black and white sesame bun with a pickled pepper. It also comes with french fries, homemade coleslaw and a big pickle.
I ordered it medium well.
The patties were indeed very thick and juicy. It wasn't over-the-top good but just good, with even the bun having this grilled smoky taste that I love in anything and everything barbecued/grilled. The thick bacon though didn't add anything to the burger and would even be better without it.
Happy Eating!