2 wienerli franks, sauerkraut, sweet relish, fresh onions, wholegrain mustard, ketchup and jalapeno peppers, served with french fries, homemade coleslaw and a big pickle for P195.00
Come to think of it, if you want to order their fries (which are delicious)for P95.00 an order, why not have the
Two Dogs in a Bed for P195
instead. It is more economical and more filling too.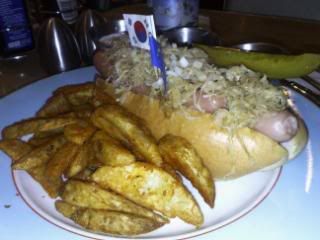 But with that said, I still like Smokey's Chicago Dog more because of the toppings and the mayo-mustard combination but Mr Jones' wieners were far superior than the hot dogs of Smokey's.
My first time to have a wiener with sauerkraut and I can say that in time I will get used to it but not today.
Happy Eating!
MR JONES
Greenbelt 5, Makati