Lunch buffet for P499 net inclusive of bottomless drinks but starting March 1, bottomless drinks will cost an additional P55.
I tried the one in Tomas Morato, but prior to that I searched online about the restaurant and found out that they don't allow photo taking of their buffet spread and that they are strict with their no leftover policy.
While there, I already know what and what not to do. I didn't take any photos just those that were on my plate or on my table.
I also didn't overstuff myself and my plate. I don't want to have any leftovers. Plus if I want seconds I can go back anytime, so why overfill my plate.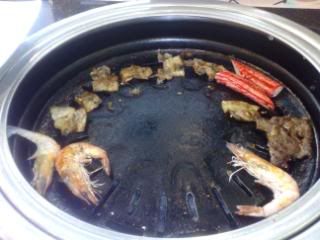 Of all that I ate, my favorites are the battered crab stick and the chocolate cake with caramel filling from Red Ribbon.

Happy Eating!
YAKIMIX
Tomas Morato
Quezon City, Metro Manila