FUDGE CHEESECAKE P105/SLICE
It has a long name but I forgot to write it down. On the receipt though it says, Fudge Cheesecake.
It reminded me of Brownies Unlimited Walnut Swirl, but unlike it which has more of the brownie part, Starbucks has more of the cheesecake part, like 3/4 and 1/4 of the fudge brownie, nuts and chocolate chips.
I had it to go and ate it the next day.
Right out of the chiller, the cheesecake was partly dense, but a couple of minutes at room tempt, it turned to mousse (not as airy though as Red Ribbon's Chocolate Mousse).
I like the cheesecake and fudge brownie combination, they could have just made it cheaper.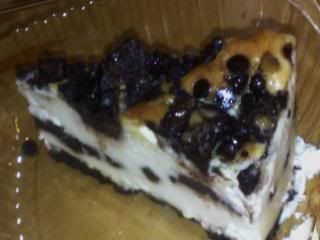 Happy eating!