A friend of mine raved about their crepes, though she'll always stick to her favorite of mangoes with added nuts, I on the other hand wanted to try them all, one or two at a time.
My first order was their
Original Sin
It has apples, whipped cream, caramel ice cream and crushed walnuts.
I was hooked on my first bite. It was just divine.
The crepe was pillowy-soft and buttery and everything in and on it worked together perfectly.
Word of caution, make sure to try first their walnuts before ordering their Original Sin. Sometimes their walnuts taste old. I had twice that experience at their Pedro Gil branch. Now I know better. Another thing, their Mall of Asia branch is generous with their toppings than their Pedro Gil branch.
- MALL OF ASIA
- PEDRO GIL
At times when their walnuts don't taste good, I order it with almonds instead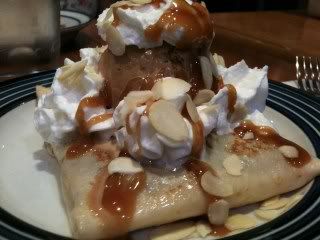 or when I don't like it to be too sweet, I omit the caramel sauce and whipped cream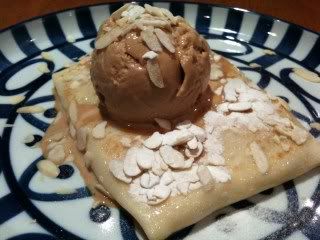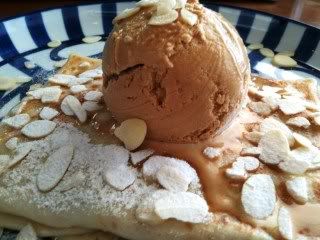 Recently this is my usual order,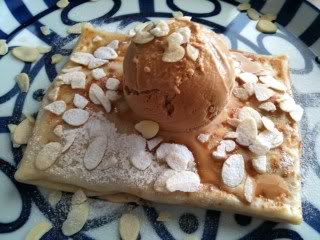 - crepe with bananas, caramel or strawberry ice cream and almonds
And just last week I got into their savoury crepes.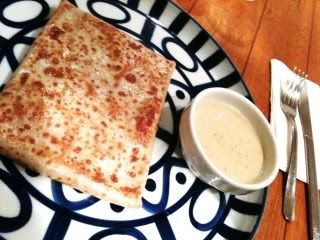 - buckwheat galette with tuna, onion and bechamel sauce
- buckwheat galette with tuna, onions and cheese sauce
I love their buckwheat galette for savoury crepes than plain crepe. I like everything here except the two sauces (bechamel and cheese -mild cheddar sauce). They were not that good. The bechamel was too peppery while the cheese tasted like their bechamel just with a little tart.
And this was my order just a couple of days ago,
Dracula Crepe
- on buckwheat galette again, with mild cheddar, tomato and garlic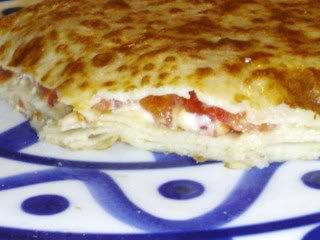 Delicious.
Tasted like a super cheesy lasagna, with the melted cheese oozing out of the galette with every slice.
It also gave a slight
CPK's Mushroom Ravioli
taste. I don't know how but it really did.
Happy Eating!