The first time I was here I had their Veronese Gelato on a Brownie at P160 an order.
The veronese was good, almost tasting like nutella and it even went perfectly-well with their fudgy brownie.
The second time, with their Veronese and Chocolate Truffle nowhere in sight, I settled for their Biscottino instead, and same as the first time, I had it on top of a brownie.
On its own the gelato was good, but not when paired with the brownie. The biscottino was so light-tasting that it was overpowered by the brownie's taste.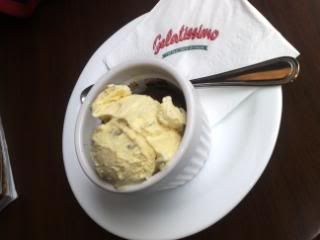 But what I love that day, was The Godfather's theme playing on the background. So italian. With that said, I'm off to watch "The Godfather" right now.
Happy Eating!
GELATISSIMO
Greenbelt 5