This time at Mr Jones I had one of their bestsellers, the
Wicked Truffled Mac n' Cheese (P375.00)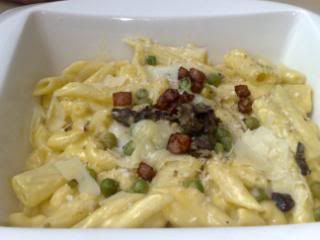 It has 3 types of macaroni pasta, 4 cheeses, "Canadian style" double smoked bacon, baby portobello mushrooms, green peas and drizzled with truffle oil.
I haven't tried that much Mac and Cheese, so I can't compare. The only thing I can say about Mr Jones Truffled Mac was that they are rich and sinfully-delicious.
I recommend that you eat it solo (meaning with no other orders) or shared with a friend. It was that rich and filling.
Happy Eating!