Eversince they renovated and changed their name and concept from Momo to Momo Cafe (patterned after the Momo Cafe in Eastwood), I have been eyeing
The "Bestest" French Toast in Town (P195.00)

Highly recommended by their chef and part of their Big Breakfast that is served all day.
Melted nutella in between two pieces of french toast, crispy bacon and bananas. Served with whipped cream, maple syrup and fruit compote.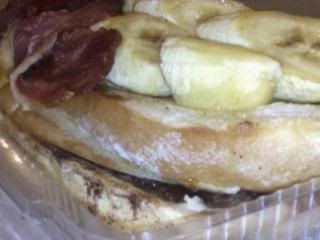 I had it to go since I was already too full from my Rai Rai Ken dinner.
The next morning I warmed it up for breakfast.
Frankly speaking I wasn't that satisfied. It wasn't all french toast. Some areas were just plain thick bread, plus there wasn't enough nutella to go around. I even used my own nutella stash just to make it taste better.
I wish they didn't renovate or change their concept. Back then almost everything on their menu is affordable including their cakes. Before a Mini Chocnut Valrhona was just P109 an order, now it is P315 a slice.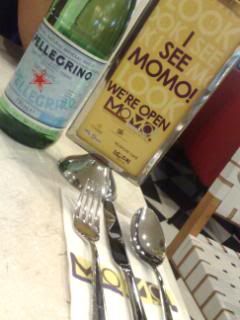 Happy Eating!
MOMO CAFE
Ground Level
Midtown Wing
Robinsons Place Manila