When in Glorietta, I always drop by
Jipan
to see what's new. That afternoon there were quite a number of new Japanese pastries. But I just tried two.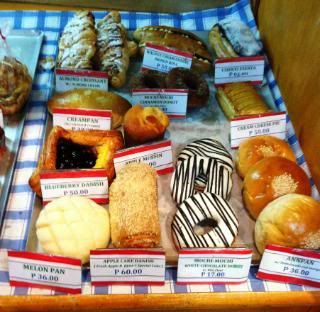 I like mochi, so I asked about their
Mochi Mochi Donut
. The staff told me that they used rice flour for the donut so that they wouldn't have to fry it. They made somewhat of a healthier donut version. They baked it instead of fried.
I don't like donuts that much as I find them too sinful and sweet and not worth the calories. But when I tasted Jipan's mochi mochi donut, I didn't feel any guilt at all. It wasn't oily or too sweet like the usual donuts.
Also, it has more than enough chocolate coating and the chocolate tasted so good. It wasn't that sweet too and the staff was right when she said that it won't be oily since it's baked.
I also bought
Mini Green Tea Croissant
with white chocolate.
I love green tea so I always try anything with green tea.
The croissant has the authentic green tea taste sans the bitter taste at the end. If you're hoping to find a strip of white chocolate inside the croissant like I did, you'll be disappointed, cos the white chocolate was already mixed with the green tea.
Happy Eating!
JIPAN
2nd Level, Glorietta,
Makati City