Layers of chocolate mousse, sponge cake and cereal/nougat crust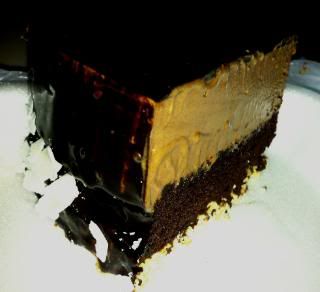 This is not the type of cake that you'll miss eating or one that you won't forget and crave for constantly.
I'm not saying that it's not good, cos it is. Just that it didn't leave a mark on me. It's better than their S'mores though. The chocolate mousse layer even resembled a Selecta chocolate ice cream in taste and consistency (when the ice cream is left for a while at room tempt) and was too dark it even tasted like coffee (or maybe it does have coffee in it). The sponge cake was soft, while the crust was a mixture of cereal and nougat. I don't understand the choice of that for the crust though, cos it doesn't jive with the rest of the layers.
Happy Eating!
MAX BRENNER
Greenbelt 5,
Makati City