Like a sansrival, baklava and coffee crunch cake/torte.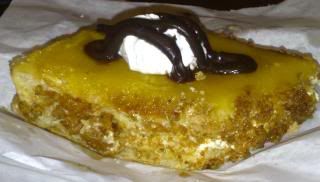 Like a sansrival because it's filled and iced with buttercream, like a baklava because it's made up of several layers of sweetened and buttered puff pastry, and like a coffee crunch cake/torte because it's coated with crushed coffee crunch.
Of course the taste was a mixture of all three with added creaminess from the egg yolk custard film and sweetness from the icing and chocolate.
At first I was unsure of buying it but I definitely made the right choice. I finished it in seconds. Definitely worthy of its P52 price.
Happy Eating!