Manju
is a popular traditional Japanese confection. There are many varieties of manju, but most have an outside made from flour, rice powder and buckwheat and a filling of `an` (red bean paste), made from boiled azuki beans and sugar.
Jipan's version also has red beans filling but with added cherry blossom flower on top.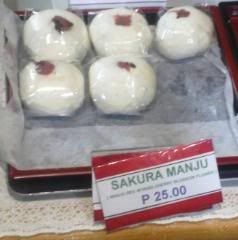 It was like a siopao bun, has a savory smell and contrasting sweet and savory taste.
Sweet red beans contrasting with the savory and salty cherry blossom flower.
Happy Eating!