White chocolate mousse with hazelnut pralines, encased in a dark chocolate cake with dark chocolate ganache, drizzled with white chocolate at P150/slice.
In my own opinion it is better eaten right out of the chiller at home. The ganache then had become fudgy and not just plain sweet as compared when I ate it at their shop or maybe the temperature that day in Glorietta had something to do with it. It was too hot inside.
Although there were an abundance of hazelnuts with the white chocolate mousse, almost giving a nutella vibe, the chocolate cake was grainy-dry. It tasted old too.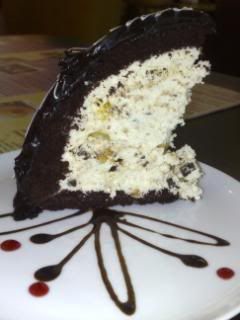 Happy Eating!
CHEESECAKE, ETC.
Glorietta Makati