with hollandaise & mornay sauce, wilted spinach, herb rice pilaf & fresh lemon at P375 an order.
It was delicious!!!
I love the hollandaise and mornay sauce that I wish they'll serve an extra helping of it on the side. The dory was tender and the crab meat was fresh. Even the herb pilaf underneath was good.
Even with all the action, the dish was not heavy on the tummy that we were still able to finish the medium well superman burger we had it with and even had room for dessert, sort of, if you can call their Banana Cream Pie Milkshake such.
The milkshake tasted mostly of cream of the banana cream pie with nuttiness from the nutmeg. I can't taste the graham in it. But they have a lot of fresh bananas and sweet cherries.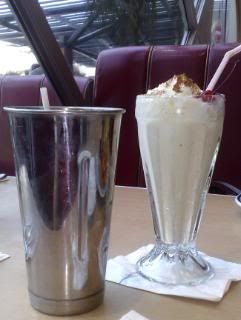 Happy Eating!