Since I am now a yogurt fanatic, out of all the dessert shops in makati, I settled for Red Mango in Greenbelt.
I had the small green tea yogurt with blueberries and cheesecake toppings for P115.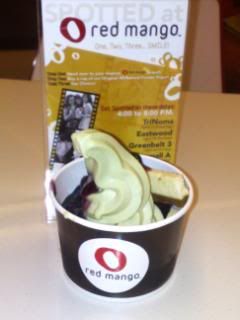 I still love Tutti Frutti's and White Hat's yogurts over Red Mango. I found Red Mango's to be too tangy for my taste. But their cheesecake topping was indeed delicious and even way way better than White Hat's.
Happy Eating!
RED MANGO
Greenbelt 3 (near the cinema)