Back at Tutti Frutti. Since their Taro Yogurt was not available that day I chose their new flavor to order, their Almond Yogurt.
I put my usual toppings of caramel coating, almond slivers, crushed oreos and an awful lot of their cookie dough (it wasn't that good but I still like it) plus their new topping, mochi.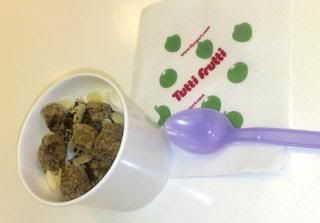 My order was definitely good that even before I finish my order I was already thinking of buying seconds.
But their Taro flavor is still my favorite.
Happy Eating!