I was out with my college friends several weeks back and after the movies we had dinner at Capricciosa in Greenbelt.
The walk was long, from Glorietta to Greenbelt that when we arrived at the resto we were already thirsty and famished. It was a minus that they don't serve complimentary breads or anything, being an Italian resto where carb overload is a must. Without anything to munch on we drowned our hunger reminiscing of our college days.
After close to 15 minutes of waiting our appetizer of Calamari Frito (P320.00) arrived.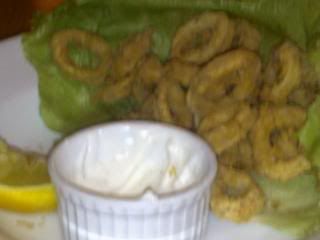 Deep fried squid with lemon and tartar sauces.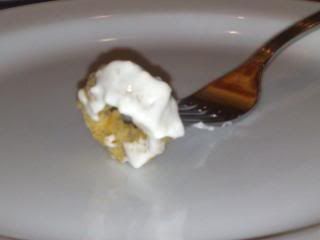 It was the usual squid rings only more expensive and saltier.
Then came our pizza and pasta orders of mostly if not all their best sellers.
We had Capricciosa Pizza (P485.00) which has salami, bacon, mushrooms and bell peppers on a thin crust and Quattro Formaggi (P485.00) which has cream cheese, blue cheese, mozzarella and parmesan cheese on a thick crust.
We all liked the Capricciosa over their Quattro Formaggi and their thin crust over the thick. With the price, we were expecting something bigger but were served with just a plate-size one.
In the Quattro Formaggi the blue cheese taste (cambozola) overpowered the taste of the other 3 cheeses. And blue cheese being an acquired taste, none of my friends liked it, while I on the other hand prefer Gorgonzola over Cambozola.
For our pasta we ordered their Lasagna Capricciosa (P620.00) and Linguine with Salmon in Cream (P670.00).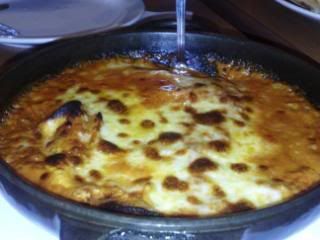 Again we were expecting a bigger serving but were served with something the size of Pizza Hut's solo pizza. Looking at it it was hard to picture the seven (7) of us sharing the dish. It was good though, but we never got over its price and size.
While in the Linguine Pasta the noodles were al dente and the salmon were generously incorporated in the pasta. It was too salty though, like a daing. Still it was a good pasta dish. Something that you wouldn't like at first but will grow on you.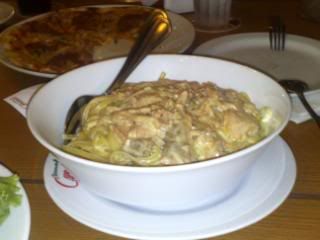 For dessert we had their Homemade Tiramisu (P220.00).
Layers of liqueur drizzled sponge cake soaked in espresso with mascarpone cheese and dusted with cocoa powder.
The coffee flavor was subtle but the liqueur was slightly more than I liked, the mascarpone layer though was good.
Overall their service was fast, their servers friendly, the food was just okay, the servings were too little for its price and the prices of their dishes were horrendously expensive.
Will I come back? Alone maybe, only to try their new solo dishes (ranging from P170.00 up). But for a get together with friends or sundays with family, I prefer CPK for pizza and pasta.
Happy Eating!
CAPRICCIOSA
Greenbelt 3 3rd Level
Ayala Center
Makati City
Tel. No: (632) 757-7811